logarithmo consulting services

---
Our expertise in your hands
We support you with workshops on digitization and targeted consulting on the road to a digital future
The topic of digitization is becoming increasingly important. Decision-makers are confronted with a multitude of new cloud solutions and buzzwords. However, it is often difficult to assess whether digital solutions can create concrete added value and are suitable for the realization of product ideas.
In the course of digitization, new opportunities arise that often remain untapped. Companies whose core business has so far offered few points of contact with the topic of digitization see opportunities in the new possibilities of this development. Data is often already available in various forms (e.g. customer data or sensor data) in the company, but is not used for further analyses. In many cases, IT skills and experience in the implementation of IT projects are lacking in order to realize and sustainably implement ideas for the use of data treasures.
We make our knowledge available to you in the form of workshops or as consultants for specific problems. Our software developers with industry expertise implement new digital solutions for a wide variety of applications in their daily work. We use both established and the latest AI methods to generate the greatest possible added value from your data. With our wealth of experience in the practical implementation of data-driven processes, we recognize opportunities and risks and support you in the development of new digital business models.
Creative solutions
Our industry experts help you find ideas, design and develop individual solutions based on your requirements.
The right tool for you
Are you unsure which data-driven processes offer the greatest added value for your application? Our experts will help you make your choice.
Individual interfaces
You use Python, Java, Visual Basic or just Excel? No problem. No matter which interface - we enable an easy integration of your data and take care of your infrastructure.
Developing solutions in a team
Our workshops bring together decision-makers and domain experts from the departments to jointly design and discuss digital product ideas.
Latest data analytics methods
In our daily work, we use the latest scientific methods where they bring real added value. We contribute our knowledge of the strengths and weaknesses of various processes to the implementation of your projects.
Easy implementation
As an established software development company, we are committed to a fast, uncomplicated and professional implementation of the ideas developed. From the first proof-of-concept to the highly scalable end product.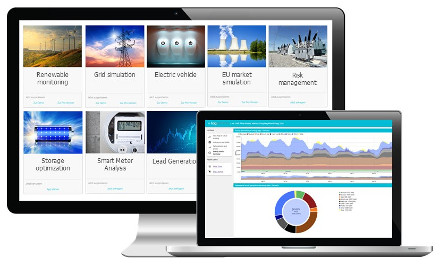 We support you in the implementation of your
digital business ideas
In contrast to traditional consulting firms, we also support you after the development of product ideas in the professional and sustainable implementation of these into productively usable web applications. We offer individual special solutions tailored to a specific application or an appstore for your application portfolio as a white label solution. The App- Store enables you as a digital sales platform to present and constantly expand a collection of tools. This allows you to build up a portfolio of digital solutions and thus a digital product division in the long term.