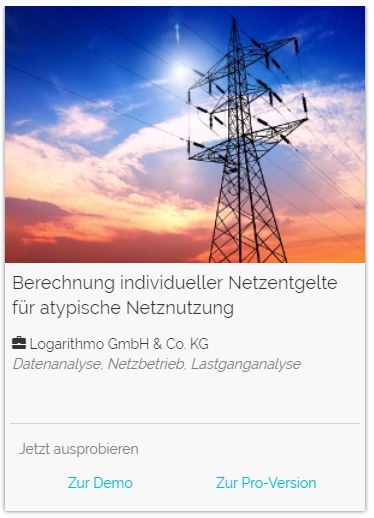 Digitization with one click
Your B2B software partner for the implementation of digital product ideas in the fields of energy and logistics
The topic of digitization is becoming increasingly important. Decision-makers are confronted with a multitude of new cloud solutions and buzzwords However, it is often difficult to assess whether digital solutions can create concrete added value and are suitable for the realization of product ideas.
logarithmo has developed a transfer process for this purpose: Our web applications package individual digital solutions in an easily accessible and intuitively usable product, which you can provide your employees or customers with individually scalable. Using our specially developed software framework and an agile approach, we transfer your idea quickly and efficiently into a productive web application. This means that product ideas can be cost-efficiently validated and tested on the customer at an early stage of development with fewer"sunk costs". True to the motto"Fail fast, fail cheap". We think in development cycles of weeks instead of months, which gives our customers a speed advantage in the short-lived time of digitization.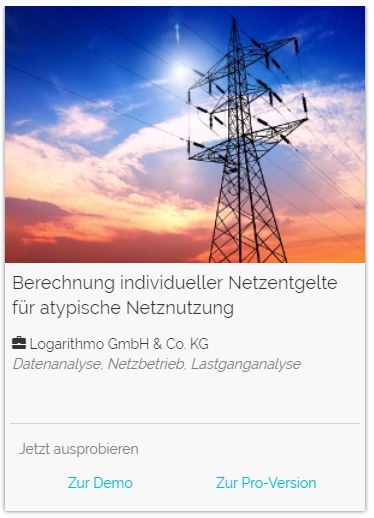 ---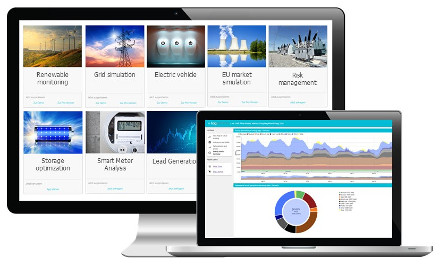 Equipt yourself with an individual
toolbox
Our App-Store concept enables the simple availability of all your tools in one place. We offer a white label solution that allows you to operate an appstore with individual branding. Integrated user management allows your customers or employees to access a selection of web apps and control who can use which data and functions.
The App-Store enables you as a digital sales platform to present and constantly expand a collection of tools. Thematic filters and search functions give you a constant overview of your app collection.
Digitalization means leaving old patterns of thought behind and breaking new ground.
Digitisation therefore also means trust and long-term partnerships. We are your partner on this way, who discusses the risks, recognizes challenges and uses opportunities with you at eye level. As an interdisciplinary team of scientists, engineers and software developers, we know how to solve complex problems. Through our many years of project experience, we have developed methods of cooperation in order to develop structured and efficient professional digital solutions.
We have established a three-stage process for the development of new digital solutions. First and foremost is the identification of the use case. This step is primarily relevant for partners at the beginning of the digitization process. Within a workshop our data experts analyse your individual chances of digitisation. Together with the experts from your company, we design product ideas and evaluate the feasibility and market potential. In a second step, we implement the developed product ideas as a minimum viable product for a proof of concept. This implementation usually takes place within a few weeks, so that the product idea can be evaluated efficiently and without major investments. Based on the findings from phase 2, the connection of the databases, the integration of the systems and a further development of the prototype to a productively usable and scalable web application are then carried out.
---
Identification
Identification of the use case
Conducting workshops
Stakeholder identification
Prototype
Rapid development of a prototype
Gathering insights into the current situation
Development of a MVP (Minimum-Viable-Product)
Application
Further development based on Phase 2
Conversion of the prototype into a productive version
Integration and Deployment

Industry expertise
Our team consists of experts from the fields of statistics, mathematics, software development and domain experts for energy and production/logistics at PhD or senior project manager level.
Speed
We develop and maintain infrastructure to develop our web-based applications step-by-step, quickly and efficiently. This means development cycles of a few weeks instead of months.
Availability
Our applications are highly available, reliable and require no software installation and maintenance on the part of the user, so that you can concentrate on the essential.
Progressive web applications: Reliable, fast and appealing.
Using logarithmo web applications means for you location-independent availability, reliability, easy integration into existing systems and no software maintenance. Your employees and customers can access your web application comfortably and without a previous installation process in your browser. Thus, your web application is available wherever access to the Internet exists. Highly available servers and redundant hosting ensure that the application is accessible around the clock from anywhere in the world. Our web applications can be easily integrated into your daily workflow, as they can be operated like desktop applications and require only a short training period due to their intuitive operability. Technically, our applications can also be integrated into existing software systems via standardized RESTful API.
We do not compromise on safety. Our encryption technology complies with banking standards and our security concept prevents the storage of application-related data as soon as it is no longer required. Benefit from dGerman data protection standards through exclusive hosting on domestic servers. As a trustworthy partner of large industrial companies (see our references) for many years, we know what it takes to protect your data.
---
Data
Connector
Connecting numerous internal and external databases (RESTful, Hadoop, SFTP, ...)
---
weather data
load prognosis
power plant data
geodata
Developer
Access
logarithmo developers with domain knowledge enable data analyses that are constantly adapted to new requirements
---
database interface
optimization module
visualization module
simulation module
rapid prototyping framework
Cloud
Deployment
Easy integration into existing software or hosting as a stand-alone web application.
---
Secured API
Private data center hosting
No software maintenance required from your side
We have built our infrastructure around the term Big Data. This means that our servers and applications are designed to process large amounts of data. Our solutions always scale to your needs, so you don't have to worry about infrastructure. Whether your web application is used by a few employees or thousands of customers. We are masters at connecting databases of different kinds, because we use various data sources in our daily work and make them available to our developers, from Excel spreadsheets to large Hadoop clusters.
Our developers implement web applications in development cycles of a few weeks instead of months. And we work daily on further shortening the development time. Over the last few years we have built up extensive libraries of standardized modules for the development of web applications. Our developers have access to numerous modules for data evaluation, visualization and processing, which allow you to design algorithms according to your requirements in record time. Extensive tests ensure that the quality of the algorithms corresponds to the industry standard. Numerous automatic processes make it possible to build a productively usable web application in the shortest time from a finished algorithm.